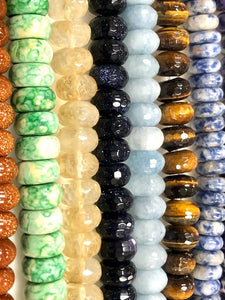 Triveni Crafts
Natural Multi Gemstone Beads, Multi Stone Rondelle Beads, Multi Color 10mm Beads
Regular price
$44.99
$0.00
Natural Gemstone Beads Rondell 10mm 11 Strands Lot
All Gemstone in this lot, NO glass or acrylic or plastic!
Bead size 10mm
Shapes - Rondell
Hole size - 1-1.25mm
Strands length - 8 inches
Round beads has about 35-40 beads in a strand.
Gemstones in this lot....
Aquamarine
Emerald jade
Green rain jasper
Golden rutile
Purple rain jasper
Tigers eye
Red goldstone
Red rain jasper
Blue goldstone
Sodolite
Orange rain jasper
Year - 2020
Top Quality Handmade
Return Policy: All items are checked prior to dispatch to ensure it is in perfect condition. However These packs of beads carry a 30-day satisfaction guarantee. No questions will be asked if you are not completely satisfied with the product and want to return it.(If you are not satisfied with the goods, and want to return.
Before purchasing, make sure you read through our shop's policy. If you have any questions or want a custom order (different size, color), feel free to contact us
Thank you so much for visiting !
---
More from this collection